Choosing the right hedge trimmer isn't always an easy task. These days, many insightful consumers are realising the benefits of the cordless hedge trimmer rather than opting for a corded electric or petrol hedge trimmer.
However, figuring out the technical specifications can be a nightmare. Cordless hedge trimmer batteries can be as low as 10.8v and as high as 60v. If you're looking into buying a new hedge trimmer, you might want to consider going for an 18v model as a good compromise.
Why is this? You're in exactly the right place to find out!
Choosing The Right Voltage
Hedge trimmers come in different voltages, and although it's not the only way to measure power it is probably the most useful.
However, don't be fooled into going for a hedge trimmer with the highest voltage, as there's a good chance that you won't need anything quite that powerful. Higher voltage cordless trimmers are more suited to the professional gardener.
Also, the higher the voltage, the heavier the tool will be and the more it will cost to charge.
On the other hand, 10.8v batteries are better for smaller hedges and gardens and will only cope with occasional light work.
So, somewhere in the middle is fine, and an 18v li-ion battery is the perfect choice for medium-sized hedges and gardens.
Now let's take a closer look at the advantages.
18V Hedge Trimmer: A Lightweight Option
Garden power tools are meant to make life easier for us, and gardening can be hard enough work without having to lug around a heavy hedge trimmer!
So, it stands to reason that the lighter the tool, the easier it is to carry and use for longer periods.
Every ounce makes a difference after a while, and your arms will soon begin to tire. This is frustrating and it can also be dangerous as there's more chance of losing your balance or dropping the machine.
Is there really that much difference in weight between models?
Well, yes, there is. Take the Makita DUH523Z and MakitaUH004GD202, for example. The first one is an 18v hedge trimmer weighing 3.4kg. The second example is a 40v machine that weighs 4.9kg. The extra weight might not seem too much, but it will soon make its presence felt!
In general, the higher the voltage, the heavier the tool. But, as you probably figured, it's not as simple as all that. The blade length affects the weight – longer blades obviously add weight – and you also need to take into account the Ah rating.
What Is The Ah Rating?
Ah stands for 'amp hour', referring to the capable charge of the battery. As an example, a 5Ah battery will (in theory) consistently deliver 5 amps an hour until it is drained.
So, the higher the Ah rating, the longer the battery will generally last, although it depends on temperature and how heavy the work is. When combined with higher voltage, you get a much more powerful machine.
What's The Average 18V Hedge Trimmer Run Time?
It isn't easy to give a precise answer to this question as there are so many variables to consider.
For example, it depends on the Ah rating of your battery, as well as the air temperature and the thickness of the hedges you are working on. What you are cutting (that is, the type of bush or shrubbery) and how you are cutting it also make a difference.
We also need to consider the brand. The majority of leading power tool brands boast pretty generous run times in the manual and on the spec sheet, although they don't always match up to this in real life.
As a rough guide, your 18v hedge trimmer should last at least thirty minutes on a single charge. Any less than this would be considered poor.
On average, the run times vary from between forty minutes to an hour, though some may last up to two hours.
Do 18V Hedge Trimmers Take Long To Charge?
If cordless tools have a negative side, it's that they need charging. Even so, this is less of a problem these days – in days gone by you might have had to wait as long as 16 hours!
For the most part, the longest you'd expect to wait for an 18v li-ion battery to fully charge is about an hour, although much depends on the Ah rating. Essentially, the higher the Ah rating, the longer it will take. As we've seen from the examples above, they can take up to three and a half hours.
Some lesser-known brands (and even well-known DIY store own-brand models) might take longer, perhaps as long as five hours.
Top Tip:
Consider buying an extra battery as you can charge one while you use the other. While it might be expensive initially, it will save you a lot of hassle and maybe even save you money in future.
Are 18V Hedge Trimmers Up To The Job?
It depends on what the job involves!
It's not only about the amount of power the machine can deliver. You also need to take into account the tooth spacing or cutting capacity.
The gap between the teeth determines the size of twig or branch that the blade can slice through. Regularly attempting to tackle thicker branches will result in bent, blunt or broken teeth (the hedge trimmer's, not yours!) and maybe even a burnt-out motor.
If you do need to cut through anything thicker than 1¾ inches (4.5cm) it's worth buying a separate tool, like a pruning saw or mini chainsaw.
However, an 18v hedge trimmer will cope with most general garden maintenance without any problems at all.
The Best Cordless Hedge Trimmers
We've looked at some of the reasons why 18v hedge trimmers are a great choice, so now it's time to explore a few of the best cordless hedge trimmer brands and models available.
Makita
This brand has built a solid reputation for sturdy, reliable tools, including an impressive range of garden equipment. When you buy a Makita, you know you're getting good quality.
As for their 18v machines, we've selected a few examples.
Makita DUH523Z
Blade length – 52 cm (20.5 ins)
Antivibration system
Rubberised soft grip for comfort
Cutting capacity – 15 mm (0.59 ins)
Run time – 70 minutes
Weight – 3.4 kg
User-replaceable blade
3-year warranty
Price – between £70 and £90 without a battery and charger. Makita recommends their 3 Ah battery, which costs between £50 and £60. Chargers cost between £26 and £40.
This is an excellent example; it's lightweight, has a decent cutting length and isn't too expensive. The tooth spacing is good for light trimming and shaping, and it's a comfortable machine to use. In addition, it's surprisingly quiet and the 5-cushion anti-vibration system cuts vibrations right down.
For a better deal, look for a hedge trimmer that includes a battery and charger.
Makita DUH604SRT
Blade length – 60 cm (23.6 ins)
Curved blades with a triple-edge cutting system (reduces resistance and increases running time*)
Variable 3-speed control
Weight – 3.9 kg
Cutting capacity – 2.35 cm (1 inch)
Single-sided cutting edge
Rotating handle
Brushless motor
Reverse button
Electric brake
Chip receiver (for collecting clippings as you go)
Price – varies between £350 and £525 (depending on the retailer) including a 5 Ah battery and charger.
*although run time is increased, no information is available to suggest how long this is. However, it's likely to be at least as much as the Makita DUH523Z, which is 70 minutes.
The DUH604SRT is a super-efficient machine, even though it only cuts on one edge. The longer blade allows you to sweep across large hedges with ease and the three different cutting speeds let you dictate the pace at which you work.
The chip receiver is a nice touch, gathering the clipped twigs and leaves to save you from having to clear them up afterwards.
Bosch
Most people know about Bosch tools; they're robust and no-nonsense, ideal for tradespeople and serious DIYers. Their range of garden tools is equally impressive, with a good selection of 18v hedge trimmers.
Bosch AHS 50–20
Blade length – 50 cm (19.68 ins)
Weight – 2.5 kg
Anti-blocking system
Syneon chip (an intelligent electronic control system that regulates voltage and current ratio)
Soft grip rear handle
Cutting capacity – 2.5cm
Adjustable front handle and handguard
Blade speed – 2,600 spm (strokes per minute)
Run time – 55 minutes
Charging time – up to one hour
2-year warranty
Price – £80 (£125 to £150 with battery and charger)
All this adds up to an impressive machine for the price. You'll get almost an hour's use before it needs charging, and it will power its way through a lot of hedges in this time!
The Syneon chip is a clever innovation by Bosch that ensures maximum efficiency. As 18v hedge trimmers go, this one is hard to beat.
Bosch Easy HedgeCut 18-45
Blade length – 45 cm (17.7 ins)
Cutting capacity – 1.5 cm (0.6 ins)
Anti-blocking system
Ergonomic design
Charge time – 60 mins
3-year warranty
Weight – 2.3 kg
Price – around £100 with battery and charger
Although it might seem like a downgrade from the previous Bosch trimmer, this handy gadget is a no-frills version. While it doesn't have an anti-vibration system, brushless motor or battery level indicator, it does the job well enough.
And for under £100 including the charger and a 2 Ah 18v li-ion battery, it's well worth considering.
Stihl
Considered the 'chainsaw kings' worldwide, Stihl is right up there with the very best brands.
As you'd expect, their cordless hedge trimmer range matches up to their reputation for excellence. However, they only seem to produce one 18v version, and it's a bit of an oddity.
Stihl HSA 45
Run time – 45 minutes
Charge time – 210 minutes
Weight – 2.3 kg
Blade length – 50 cm (19.56 ins)
Soft handle
Hanging eye
Tip protector
In-built battery level indicator
Price – around £95
Blade speed – 2,500 spm
Extremely quiet
Cutting capacity – 8 mm (0.31 ins)
The first thing you'll notice is that the tooth spacing isn't particularly wide, making this machine more suited for light maintenance of well-kept hedges rather than heavy-duty hedge cutting.
But that's okay, as it's a really handy, lightweight trimmer that's easy to use. It's also astonishingly quiet and it comes with a charging cable.
What sets it apart from other hedge trimmers is that the 18v li-ion battery is integrated within the casing and is not detachable. While it's not easy to understand the logic behind Stihl's decision to do this, there's no disputing the fact that it's an effective machine.
DeWalt
Another stalwart brand that's found in many tool boxes, whether professional or amateur, DeWalt has an excellent reputation.
Their cordless hedge trimmers look every bit as good as their other tools, and you can tell in an instant that a lot of thought went into the compact, lightweight design.
DeWalt DCM563PB-XE
Blade length – 55 cm (21.65 ins)
Run time – 75 minutes (DeWalt have some of the longest-lasting batteries available)
Charge time – about one hour
Cutting capacity – 1.9 cm (0.74 ins)
Laser-cut hardened steel blades
3-year warranty
Wraparound handle
Cutting speed – 1,400 spm
Price – £140 without battery or charger (around £190 including battery and charging base)
This machine has received many positive reviews online, and it's easy to see why. On a one-hour charge, you get around 75 minutes (and more, according to some reviews) of uninterrupted use because of the 5 Ah battery.
Some reviewers liked the fact that they could slot a battery from another tool into the hedge trimmer, saving them money when they purchase a bare unit that costs about £140.
DeWalt makes about sixteen 18v hedge trimmers with slightly different specifications, and every one of them is worth a shot if you want quality and value for money.
Top Tip
As with all laser-cut blades (and most other types), these are incredibly sharp! Always take care and use heavy-duty gardening or safety gloves when touching the blades. Even they're when not moving, the blades can easily cut you. And when they are moving, they can take off your finger.
Ryobi
Ryobi tools are famed for their innovation, professionalism and affordability, and this includes their hedge trimmer range.
The example we've chosen is part of the Ryobi ONE+™ range*, and it showcases this brand's commitment to producing superior tools.
*More than 150 different tools for the home, garden and crafting that can all use the same batteries.
Ryobi OHT1850X Long Reach Hedge Trimmer
Blade length – 50 cm
Extended reach (for cutting higher hedges with ease)
Cutting speed – 1,200 spm
Cutting capacity – 1.6 cm (0.6 ins)
Weight – 3.6 kg
Rotating handle and four-position articulating head
HedgeSweep™ attachment
Diamond-ground blade
Run time – 80 minutes
Charge time – 3 hours 20 minutes (for a 5 Ah battery)
Price – around £180 including battery
For less than £200, this is definitely one to consider. The extended length allows you to cut higher hedges without much effort at all, and the special attachment collects the clippings as you cut, saving you the hassle of clearing them up later.
The specially-designed handles allow for comfortable horizontal and vertical trimming, helping to avoid strain from awkward positions.
While the charging time might seem excessive, you get around 80 minutes of continuous use, allowing you to cover a lot of ground. And as some reviews say, you'll tire out long before this hedge trimmer does!
Ryobi RY18HTX60A-0
Blade length – 60 cm
Cutting capacity – 2.6 cm (1 inch)
Advanced ergonomic design
Brushless motor
Anti-jam technology
HedgeSweep™ attachment
Run time – 54 minutes
Cutting speed – 1,500 spm
Weight – 2.9 kg
Laser-cut diamond-ground blade
Price – £150 without battery (battery pack costs between £70 and £90, charger between £50 and £60)
Charge time – about 3 hours
It's worth scouting around online to find a good deal if you don't already have a Ryobi 18v battery. Otherwise, a 'bare tool' at £150 (maybe less) is a bargain, considering what you're getting.
Top Tip:
Check what you are getting before you buy, especially when buying online, as many cordless hedge trimmers are sold without a battery and charger. Look for a deal where these are included, maybe even with a spare battery.
Einhell
Known for its high-quality home improvement tools, Einhell has won a lot of fans since launching in the UK in 1999. As with many of the leading brands, Einhell has developed a battery system that's compatible with a huge range of tools, known as the power X-change.
Einhell GC-CH 1855/1 Li-Solo
Blade length – 55 cm (21.65 ins)
Weight – 2.6 kg
3-year warranty
Run time – 80 minutes
Charge time – 40 minutes
Swivelling rear handle
Metal gearing
Aluminium blade protector
Hanging eye
Laser-cut diamond-ground blade
Cutting speed – 2,200 spm
Cutting capacity – 1.8 cm (0.7 ins)
Price – around £110 including 2 Ah battery pack and fast charger
As you'd expect, Einhell tools incorporate German flair for engineering and design, and this is apparent in its cordless electric hedge trimmers. And for £110 including the battery and a fast charger, this one is something of a bargain.
Einhell GC-CH 18/40 Li Solo
Weight – 2 kg
Metal gearing
Aluminium blade protector
Large, see-through safety guard
Hanging eye
Laser-cut diamond-ground blade
Blade length – 47.5 cm (cutting length – 40 cm)
Cutting speed – 2,400 spm
Cutting capacity – 1.3 cm (0.5 ins)
Ergonomic design
3-year warranty
Price – around £80 without a battery
Most reviewers loved this model because it is compact and lightweight while still delivering enough power to get the job done. The battery is helpfully placed so it doesn't get in the way and it also balances the trimmer nicely.
The transparent safety guard lets you see where you are cutting while protecting your hands as you work and preventing chips from being cast backwards.
This is definitely one of the best hedge trimmers if you need a lightweight model for general trimming around a smallish garden.
Can You Get 18V Pole Hedge Trimmers?
Yes, you can, and they're just as good as their shorter counterparts. And if you have tall hedges, it makes good sense to invest in an extendable hedge trimmer. You can adjust the angle of the cutting blade to perfectly shape the tops of your hedges without using a ladder.
The only downside is that the usually weigh more than a 'normal' hedge trimmer, although most of the top brands come with a harness that helps to take the weight.
All of the brands mentioned above include at least one cordless pole hedge trimmer in their range, and these are ideal for taller hedges.
Bear in mind that there's a difference between a pole hedge trimmer and an extendable trimmer. If you prefer one that can handle short as well as taller hedges, you might want to consider getting one that can be extended, rather than a model that is fixed on a pole.
Some people buy two, a small hedge trimmer for sorting out the lower hedges and a long-reach hedge trimmer for larger ones. Of course, not everyone wants to do this or has the budget for it, so a telescopic trimmer is the ideal solution.
Top Tip:
It goes without saying really, but it's best to avoid unbranded battery hedge trimmers or little-known brands. They may be cheaper than the leading brands, but for good reason! It's unlikely that you'll get a warranty or guarantee, and the machine will almost definitely be sub-standard.
A Note About Cutting Speed
Some of the examples here include a cutting speed, measured in strokes per minute. This lets you know how many times the internal mechanism pushes the blades back and forth in the space of 60 seconds.
Generally, the more strokes per minute, the quicker the blades move and the faster you'll get the job done. What's more, the higher speed allows for a more efficient cut, resulting in a perfect finish.
Where a cutting speed hasn't been included in the specifications on the above models, this is because the manufacturer hasn't provided details.
Top Tip
You can extend the battery life by trimming your hedges regularly. Light trimming on a regular basis means you won't overwork your cordless hedge trimmer, whereas if you wait for ages and cut an overgrown hedge you'll put more strain on the machine and run the battery down more quickly.
What's So Great About Cordless Hedge Trimmers?
When you select a hedge trimmer it's partly a matter of personal preference, but also practicality. You have three options; cordless, electric or petrol hedge trimmers and each one has its good and not-so-good points.
If you're still undecided, here's a brief comparison to steer you in the right direction:
Petrol Hedge Trimmers
Often the choice of professional gardeners, petrol hedge trimmers offer long-term use, durability and raw power.
However, they generally weigh more and require a fair amount of preparation and maintenance. They also kick out unpleasant, polluting fumes and you'd be advised to wear ear protection because of the noise.
They are certainly not the greenest choice, and they won't make you popular with your neighbours!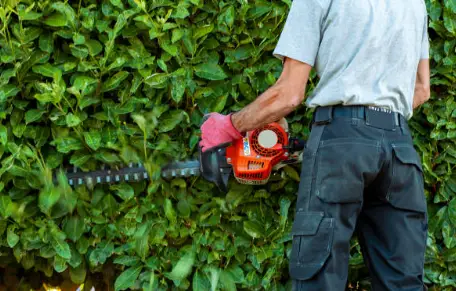 Corded Hedge Trimmers
Corded electric hedge trimmers are rapidly becoming a thing of the past, but will probably hang around for a few years yet. They do have positive points; they are lightweight, they don't need charging and they deliver a constant level of power.
On the downside, the power cable on an electric hedge trimmer can be a pain, as you have to constantly be aware of it to avoid trip hazards or the possibility of slicing through it with the blade. You are also limited by the length of the power cable unless you use extension cords or invest in a more expensive model that has a 10-metre power cable.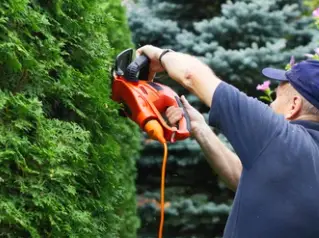 Cordless Hedge Trimmers
The lithium-ion battery has changed the way we use power tools forever. It provides the power of the petrol hedge trimmer, and freedom to move around no matter how large your garden is. Also, the cordless trimmer battery provides a consistent power supply for between 40 minutes and two hours.
Cordless hedge trimmer batteries have a shelf life of around 3 to 5 years and are designed to be charged between 1,000 and 2,000 times. Also, all the components can be recycled, making cordless hedge trimmers a good choice for the environment.
If that wasn't enough, battery-powered hedge trimmers are cheaper to run than either of the other types, by as much as 70%!
Finally, most leading power tool brands have designed their batteries so they can fit into their entire range of tools, saving you a significant amount of money.
Top Tip:
Although most cordless hedge trimmer models use lithium-ion batteries, you might still come across a few that use nickel-cadmium batteries. It's best to avoid these if possible as they are seriously bad for the environment and don't offer the same benefits as lithium-ion ones.
Choosing The Best Hedge Trimmer
It's a good idea to consider all the options and to weigh up the pros and cons before buying. You'll need to take into account the size of your garden and the number and size of your hedges, as well as any other tasks you might use the hedge trimmer for.
Here's a quick checklist of points to consider. They've been mentioned in the article but it's worth reinforcing them here:
Blade length – longer blades mean heavier machines, but they speed up the work and can cope with wider hedges.
Tooth spacing – the wider the space, the better the cutting capacity, so the machine can trim thicker branches.
Handles – cushioned or rubberised handles provide more comfort, especially for users with arthritis or conditions that cause muscle pain. An adjustable or rotating handle makes it easier to guide the trimmer in different directions for shaping hedges.
Safety features – cut-off switches, anti-blocking systems and hand-guard are all welcome.
Tip protectors – these stop you from damaging the teeth on hidden objects like fence posts.
Weight – not everyone can comfortably wield a cordless hedge trimmer for very long without their arms tiring. Anything under 3.5 kg is ideal.
Cutting speed – we mentioned this above, but the faster the speed, the better the finish.
Battery – is the battery included? Can it be used in other tools? What's the Ah rating? Check all these before buying!
Warranty – in the event of any problems, it's good to have the peace of mind that your purchase is covered for two or three years. Note that some warranties or guarantees require you to take action before they become active.
18V Hedge Trimmers: Are They Any Good?
Yes, without a doubt! If you have a medium-sized or big garden with larger hedges, shrubs and bushes, a hedge trimmer with an 18v li-ion battery will be perfect. They're even ideal for small gardens as they're not too heavy and will certainly handle any task easily.
The great news is that you are spoilt for choice, as there are so many excellent models out there. We've covered a few of the best cordless hedge trimmer brands here, but be sure to check them all out and do your own research.
Of course, if you prefer to have a more powerful machine, then by all means, check out the 20v, 36v, 40v or 56v models. However, these invariably weigh more, cost more, take longer to charge and use more electricity.
Unless you're a professional gardener or you have an exceptionally large garden with a lot of mature hedges, an 18v cordless hedge trimmer is the perfect choice.