Gardeners these days are spoiled for choice when it comes to labour-saving power tools. Gone are the days of struggling with shears, loppers and pruning saws (although they still have their place).
As much as we enjoy working on our gardens, it shouldn't be too taxing. There needs to be a balance between getting fresh air and exercise without getting exhausted and feeling like we've been hit by a truck the next day.
One brilliant tool that's proved very useful in my garden is the mini hedge trimmer, which I sometimes use in place of my full-sized cordless hedge trimmer when only light work is required to keep the garden tidy. Regular trimming saves a lot of time later, as it stops your garden from going wild and needing heavy maintenance a few weeks down the line.
If you're looking into getting one of these little gadgets, you might want some more information. To save you some time, I checked out several models to find the best examples of mini hedge trimmers on the market.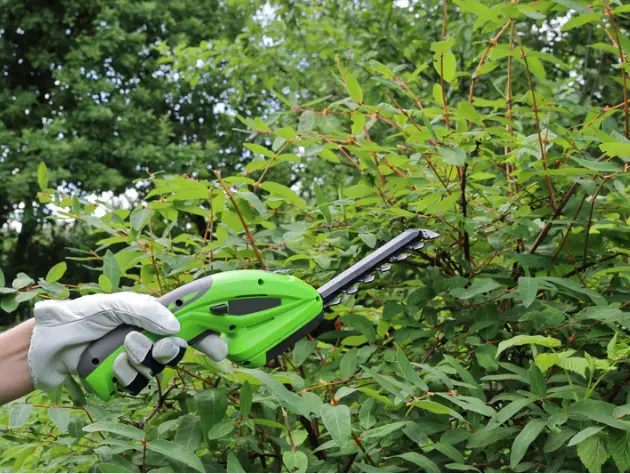 This is a great place to start our search! From the moment you unpack it from its neat little case, the Bosch quality shines through. It is beautifully designed and seriously easy to use.
Here's what you get for your money:
12 cm blade for trimming and shaping hedges
8 cm blade for edging
Multiclick tool-free system for changing blades
50-minute running time
Weight – 0.6 kg (1.3 lbs)
Includes charger
Quick stop brake
Soft grip handle
3.6v li-ion battery
2-year guarantee
Bosch anti-blocking system to allow uninterrupted trimming
For around £60 or £70, this excellent little gadget is well worth the money. It's perfect for shaping and topiary, and for keeping the edges of your lawn looking trim. If there's a downside, it's that charging takes around 3.5 hours. Also, the battery is fitted in the casing and is not replaceable.
However, considering you get almost an hour's use out of it on a single charge, and it should last a good few years, it's a brilliant little machine.
If you thought the Bosch was good, wait until you check out this little beauty!
The Worx brand has excelled itself here, with a compact but powerful machine that's a joy to use.
This is what you can expect:
1 x grass shears
2 x hedge trimming blades – 12 and 20 cm (5 and 8 inches)
20v motor
Tool-free blade change
Soft grip handle
Optional extension shaft
1 hour running time
Lightweight design
Weight – 0.9 kg with battery!
Again, the charging time is high (at least, I think so – some reviewers seem to disagree!) as this one takes about 5 hours. However, it's worth sticking it on charge overnight if you plan to use it the next day. It also helps to invest in a spare battery.
On the plus side, the battery is compatible with Worx PowerShare™ tools.
You can get the bare tool for between £70 and £80, which is great if you already have a Worx battery and charger, otherwise, you'll need to shell out an extra £50 and £30 respectively. It's always worth checking sites like Amazon for deals that include a battery and charger if you need them. For example, rather than paying £150 or more for the separate parts, some sellers offer all three for around £100!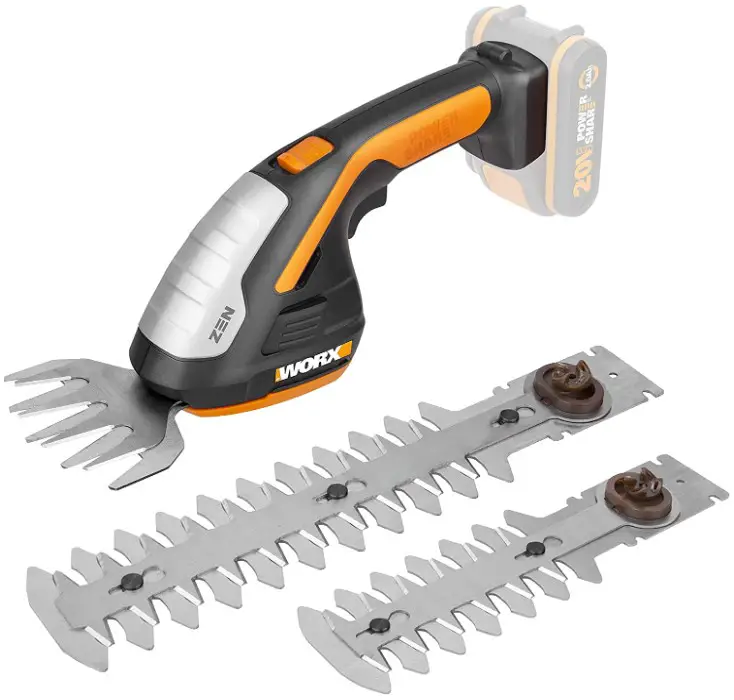 In terms of design, this one was very different from the rest, looking rather like an oversized set of hair clippers. However, once I started using it, I was reassured by the typical Stihl quality.
As you'd expect, the specifications are impressive. Here's what's included in the price:
20 cm (8 ins) shrub cutter and scabbard
12 cm (5 ins) grass shears and scabbard
Sturdy canvas carry bag with eyelets for wall mounting
10.8v lithium-ion battery
Centralised handle design
Charger
Tool-free blade replacement
0.8 cm (0.3 inch) cutting capacity
Weight with battery – 1 kg
110 minutes running time
This tool was ideal for shaping and trimming shrubs and bushes and was very comfortable to hold. The non-slip handle gives you full control over the unit at all times.
Admittedly, the cutting capacity is on the low side, but this machine is for shaping and light trimming of young shrubs and ornamental hedges (including evergreens), not for heavy-duty work.
The whole kit costs around £110 which is a good investment for what you get.
If you're not familiar with EGO power tools, be sure to check out their great range as they're definitely worth considering.
The CHT2001E is a case in point, with its futuristic look and impressive features:
Shrub shear blade length – 20 cm (8 ins)
Grass shears width – 11.5 cm (4.5 ins)
70 minutes running time
12v 2 Ah battery
Quick release blade changing
Fast dual action blades for a precise cut
Weight with battery – around 1.5 kg (3.3 lbs)
The total weight is a bit sketchy, as sources gave different figures. However, it's still very lightweight enough for most people even if it's a bit heavier than I've stated here.
This great gadget is part of the EGO Power+ range of products that carry a 5-year domestic use guarantee when registered within 30 days of purchase. The RRP for these mini hedge trimmers is £99, though you can find them for around £40 online so be sure to shop around!
Trust Makita to do things differently! This model looks nothing like the others, with all the appearance of something you'd expect a professional contractor to use.
Rather than having its own small battery that slots inside the handle (like many of the other mini hedge trimmers here), this one relies on an 18v battery that powers other Makita tools.
Here are those all-important specifications:
11 cm (4 ins) cutting width
Tool-free blade change
Weight – 3.58 kg (8 lbs)
Transparent hand guard
220-minute running time
Manganese phosphate coated blades to prevent corrosion
45-minute charging time (with fast-charger)
Battery protection circuit
Adjustable 3-stage cutting height
Now, this one weighs a lot more than the others. In fact, some full-size hedge trimmers weigh around the same! But if you can get past this fact, it's a great little machine that packs a serious punch.
And did you see that running time? That's more than three hours on a full charge, using the Makita 5Ah 18v battery! The charging time is impressive as well, you'll only have to wait 45 minutes, although you'll get a lot done on one charge anyway.
It's no surprise, then, that this amazing machine costs around £145, but that includes the battery and charger.
If your budget won't stretch to the Makita, how about this one from Black +Decker?
You can see from the specs that it's not trying to compete with the Makita in any way:
Blade length – 15 cm (6 ins)
Weight – under 1 kg (2 lbs)
7v motor
1.5Ah battery power
Running time – one hour
Charging time – 12 hours
Yes, you read that right – the charging time is around 720 minutes! However, if you stick this on charge and leave it overnight it will be ready to use the next day.
Other than this, it's an ideal tool for small gardens and for keeping hedges in trim, especially for senior gardeners or anyone with health conditions affecting their hands. It is a super-lightweight hedge trimmer, weighing less than 1 kg!
Best of all, you can pick up for around £35, so it's good for your bank account, too.
Why Buy A Mini Hedge Trimmer?
It all depends on your attitude to gardening, the size of your garden, and your budget!
While mini hedge trimmers might not be absolutely necessary, they can be very handy. If you're like me, you love gardening and don't mind cutting hedges, but you don't want to spend all day wrestling with it and end up feeling like you've done ten rounds with Tyson.
So, I see some of these garden power tools as an investment; I spend less time gardening, it keeps my garden looking great, and I get to spend more time relaxing in it rather than toiling to keep it tidy.
If you have larger hedges or a big garden, it's best to have a set of full-sized hedge trimmers. For thicker branches and very high hedges, you'll definitely need something that can tackle them. I tend to favour the cordless hedge trimmer as I don't like the trailing power cable of electric hedge trimmers or the noise and pollution of petrol models.
But when there's only a small amount of tidying to do, the big hedge trimmers seem a bit overkill. So, I fish out the miniature version and spend an hour or so tidying edges, and the job is soon done.
The Senior Gardener
If you are a gardener of more senior years, a decent set of mini hedge trimmers could be the best thing for you. They are lightweight, and the ergonomic design makes them easy to use for long periods.
There's a good chance that you'll be caring for a small garden, so you don't really need a huge machine anyway. So, the mini version is perfect to keep a small hedge in good shape.
Cordless Hedge Trimmers Rule!
The main advantage of these nifty little tools is that they are all battery-powered*. While I admit that I am biassed towards the cordless hedge trimmer, it has to be said that they offer many benefits.
*At least, I didn't come across any miniature corded hedge trimmer examples
They are very portable, they make less noise (so ear defenders aren't necessary), and you aren't hampered by a cable, as you are with a corded electric hedge trimmer.
The only negative is that you have to wait while the battery charges. In some cases, you can get around this by investing in a spare battery, but this isn't possible with some of the examples given here. If this is an issue for you, the best advice is to consider the Makita, EGO or Worx models, as these ones have batteries that are compatible with other tools in the great range of products each brand produces.
The Best Small Hedge Trimmer
So, which one is the best? Well, I've given you a few to choose from, and I know which ones I like personally, but you need to decide which is more suitable for you and your garden.
It's important to select the right tool for the job. Don't buy one of these gadgets and expect it to power through thicker branches or tackle a 3-acre garden.
For larger gardens and tall hedges, you need a full-size model, maybe even a long-reach hedge trimmer.
But for small or medium-sized gardens, and for general tidying, shaping and edging in larger areas, one of these models will do nicely.
In summary, if you prefer a longer running time, the Stihl and Makita models are the ones to go for. If saving money is uppermost in your mind, the Black+Decker, EGO or Bosch trimmers might be your best bet.
As for weight, none of them are excessive, although the Makita is the heaviest by far, at 3.5 kg.
And now it's over to you!