Are you searching for a hedge trimmer that won't make your arms feel like they're about to drop off after ten minutes? Some of these power tools are so robust and rugged that they aren't suitable for the more 'delicate' and petite gardener!
Of course, this applies equally to men and women, or even those with physical conditions that mean they can't hold anything too heavy for prolonged periods. But, in general, ladies tend to be less muscular than men. If you feel able to wield a heavy, powerful hedge trimmer then good for you!
However, I prefer something that's easier to handle and that will make gardening enjoyable rather than feel like a heavy workout at the gym.
There's a serious side to this issue as well; you are much more likely to have an accident if you use a machine that's too heavy for you. Although most modern hedge trimmers have safety features that stop those steel blades, they are still wickedly sharp even when not in motion. If your arms get too tired while you are holding the trimmer above shoulder height, this could be disastrous.
So, I've been on a mission to find the best lightweight hedge trimmers for ladies (or anyone who prefers or needs one!) and this is what I discovered.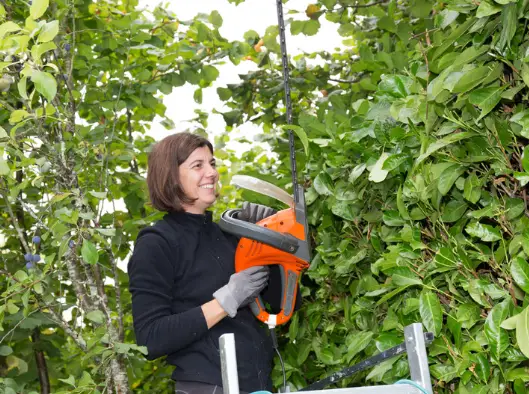 Electric Hedge Trimmers
This is a neat, good-looking machine that's comfortable to hold because of the soft grip handle. It comes with a 10-metre power cable, which is handy for smaller gardens and small to medium, hedges. Other features include the following:
Blade length – 45 cm (18 ins)
Cutting capacity – 1.6 cm (0.62 ins)
Dual safety switch
450-watt motor
Quick stop brake
Laser-cut blade
Weight – 3.6 kg (7.9 lbs)
What's more, it comes with a 3-year warranty and costs £50 or less, making it a great choice for anyone on a tight budget.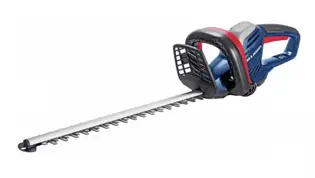 If you thought the last corded hedge trimmer was good, wait until you see this one! If electric hedge trimmers are for you, then this should pique your interest.
McGregor tools are always impressive, and this is no exception. Although it might not look as appealing as the Spear and Jackson above (in fact, it looks a bit plain and no-frills), don't let that fool you. Take a look at the specs:
Blade length – 51 cm (20 ins)
Cutting capacity – 1.6 cm (0.62 ins)
Diamond-ground hardened steel blade
Dual safety switch
Tip protector
Quick stop brake
500-watt motor
Weight – 2.5 kg (5.5 lbs)
So, you get a more powerful motor, a longer blade and a lighter hedge trimmer. Best of all, it only costs around £45! The only slight negatives are that it only has an 8-metre cable and a 2-year warranty.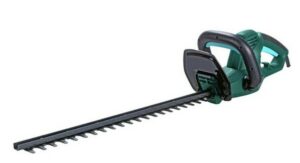 This model is different as it lacks the wraparound front handle of the previous two hedge trimmers. Instead, it has a 'bale' handle projecting forwards from the top of the machine. Once you get used to this, it's easy to move around and quite comfortable to use, allowing smooth transition from horizontal to vertical trimming.
What else does it offer? Let's take a look:
Blade length – 45 cm (18 ins)
Cutting capacity – 1.6 cm (0.62 ins)
Dual action blades
420-watt motor
Weight 1.92 kg (4.2 lbs)
No, that's not a mistake – it really does weigh less than 2 kg! That's probably because B+D shaved off some weight by using the bale handle, but it works well as you can feel the difference when you use it. Retailing at around £54 it's definitely a contender for one of the best lightweight hedge trimmers for ladies.
On the downside, it doesn't have a tip protector and the listings online (even by the manufacturer) don't give a clear idea of the power cable length. Suggestions by customers range from three to twenty feet! However, if you don't mind using an extension cord, this is still a good buy.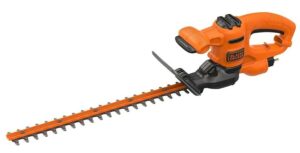 Einhell is known for its well-designed tools. This company thinks about the appearance of the machine as well as its functionality. The GH-EH 4245 bears these hallmarks and is a joy to use. The wraparound front handle and soft grips make it comfortable to hold and the addition of a clip to prevent strain on the power cable is a nice touch.
The other specs are as follows:
Blade length – 45 cm (18 ins)
Cutting capacity – 1.6 cm (0.62 ins)
Laser-cut diamond-ground blade
420-watt motor
Weight 2.5 kg (5.5 lbs)
Metal gears for extended lifespan
Overall, this is an excellent hedge trimmer, and you can pick one up for between £50 and £60. It also comes with a sturdy aluminium blade sheath that can be mounted on the wall, providing safe and convenient storage.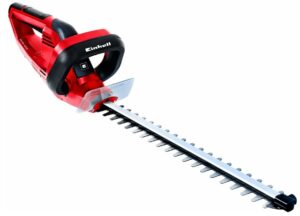 Petrol Hedge Trimmers
Bear in mind that the typical petrol hedge trimmer is heavier than most other types, so the term lightweight is relative. Still, I checked out some of the best hedge trimmers around to find those that qualify for our mission.
Pro tip – when choosing a petrol-powered hedge trimmer, look at the power-to-weight ratio.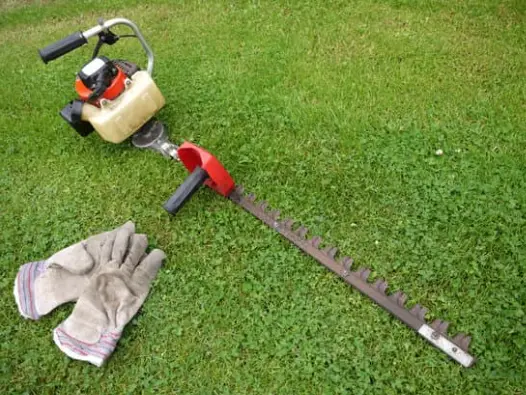 Hyundai has thrown itself into the manufacture of power tools with great enthusiasm and is producing some excellent machines, and this one proves that point.
We'll let the specifications speak for themselves:
Blade length – 60 cm (23.6 ins)
Cutting capacity – 3.5 cm (1.37 ins)
Low vibration technology
26cc 2-stroke air-cooled Hyundai engine
Rotating handle for full control
Easy start system
3-year warranty
Minimal maintenance
Weight – 5.5 kg (12 lbs)
Although 5.5 kg is quite a bit heavier than any of the corded hedge trimmers above, it's not heavy for a petrol hedge trimmer! This is a superior model in many ways, especially with its impressive cutting width of 3.5 cm. As you might expect, it's more expensive than the corded electric models, coming in at around £170.

My first thought when seeing this model was that it was a bit chunky and industrial-looking, so I expected it to be heavy. However, it's deceptively light! On top of this, it came with all the features you'd want in a good-quality hedge trimmer:
Blade length – 56 cm (22 ins)
Cutting width – 2.2 cm (0.86 ins)
Adjustable rear handle
Ergonomic design with soft-grip handles
22.7 cc engine
Tool-less air filter
Soft-start
Low noise engine
Anti-vibration system
Weight – 5.2 kg (11.4 lbs)
This model costs slightly more than the Hyundai, selling for around £190, although it weighs slightly less. The Hyundai beats it in most other areas, although it is still a great choice if you want a lightweight petrol hedge trimmer.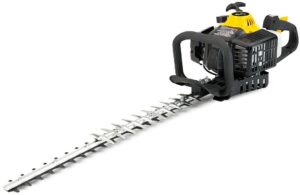 In contrast to the McCulloch, the Stanley SHT-26-550 has a simpler design with more of the machine covered in plastic casing. It's neat, compact, and pleasing to the eye. But what about the all-important specifications? Well, they're pretty good, too:
Blade length – 55 cm (21.65 ins)
Cutting width – 2.7 cm (1 inch)
26 cc air-cooled 2-stroke engine
180º rotating handle
Anti-vibration system
Easy-start system
1-year guarantee
Weight – 5.3 kg (11.6 lbs)
In terms of cost, this model is similar to the two other hedge trimmers mentioned above, coming in at around £160. What it lacks in blade length it makes up for in power, as the 26 cc engine is more than enough to cut through tougher branches.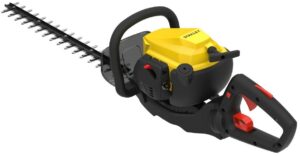 No list of best hedge trimmers would be complete without a Husqvarna! This company is among the top manufacturers of power tools worldwide, and you can tell that it has poured its expertise into its range of garden tools, including this model:
Blade length – 45 cm (18 ins)
Cutting width – 2 cm (0.8 ins)
Smart-start
Low vibration system
21.7 cc 2-stroke engine
Low emissions
2-year guarantee
Weight – 4.6 kg (10 lbs)
This amazing machine feels compact but powerful, even with a smaller engine than the others. It copes with thick branches easily and just keeps going! Weighing less than 5 kg, it's definitely a good fit for our mission to find a good lightweight hedge trimmer for ladies.
There's an overall sense of quality as you glide the razor-sharp blades across the hedge. As you'd expect, this comes at a price, somewhere between £220 and £300. However, if your budget can stretch this far, it's worth a shot. This is one of the best petrol hedge trimmer models available.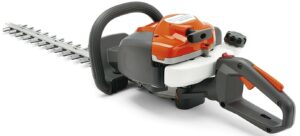 Stihl is another brand that's right up there at the top along with Husqvarna. The HS45 model proves this, but when you see the specs there's a chance that it has the edge over its rival in this instance:
Blade length – 45 cm (18 ins)
Cutting width – 3 cm (1.18 ins)
27.2 cc engine
Long-life air filter
Anti-vibration system
Low fuel consumption and emissions
Manual fuel pump
Weight – 4.7 kg (10.3 lbs)
Again, you can feel the quality of this compact machine. As with most petrol-powered trimmers, it can tackle thicker branches, and this one has a tooth gap of 3 cm, making short work of all but the thickest ones.
Like the Husqvarna, it's a bit pricey, coming in at between £240 and £285 on average. Even so, it's a great investment for anyone with a very large garden and a lot of hedges to manage.

Cordless Hedge Trimmers
Now, I admit I'm biased, but cordless hedge trimmers are my favourite, which is why I've left the best until last. You might disagree, and that's fine, but improvements in battery life and charger technology are likely to make the cordless hedge trimmer more popular than ever, and manufacturers will eventually stop making petrol or corded trimmer models.
With that in mind, let's look at a handful of the best cordless hedge trimmer examples out there at the moment.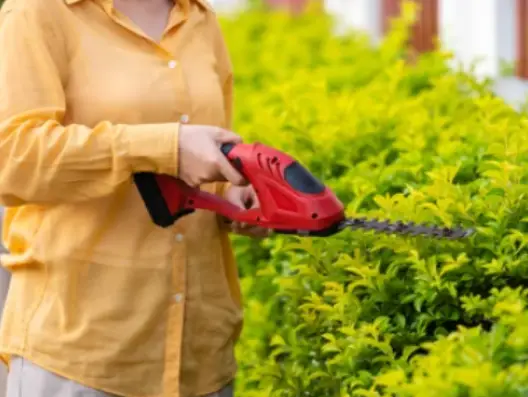 When you buy a Ryobi you know you're getting good quality, and reviews for the OHT1845 support this fact. What's more, this tool is part of the Ryobi ONE+ ™ system, so the battery is compatible with at least 150 other Ryobi power tools!
Here are the specifications:
Blade length – 45 cm (18 ins)
Cutting capacity – 1.8 cm (0.7 ins)
Diamond-ground steel blade
18v motor
Run time – 34 minutes (on a 2 Ah battery)
Charging time – 1 hour
Weight – 2.9 kg (6 lbs)
Immediately, you can see that it competes with the examples in the corded model category above in terms of weight. This one is under 3 kg, making it extremely easy to use.
While 34 minutes might not seem a lot of time, the 18-volt motor allows you to get a fair amount of work done before the battery needs charging. And if you have an extra battery, you can switch them and carry on.
The second factor you'll notice is the price when compared with petrol models, as the Ryobi OHT1845 retails at around £90* without the battery and charger. This is a common feature with cordless hedge trimmers – you often only get the bare tool. The battery and charger are sold separately. While this might seem an inconvenience, it does actually save you money if you buy other power tools of the same brand if their batteries are compatible, as with the Ryobi ONE+ ™ system.
*The battery and charger cost around £50 or £60, although you can find deals where they are included with the hedge trimmer.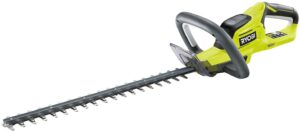 Bosch is another brand known for its reliable and sturdy cordless tools, but at first glance, the Easy HedgeCut 18-45 doesn't seem to have the same feel. It's streamlined and well-designed but has the appearance of a no-frills brand.
However, when you switch it on the quality soon becomes apparent.
Take a look at the specs:
Blade length – 45 cm (18 ins)
Cutting capacity – 1.5 cm (0.6 ins)
Well balanced
Ergonomic design for comfort and control
Anti-blocking system (allows continuous cutting)
18v motor
Run time – up to 80 minutes.
Charging time – 1 hour
2-year guarantee
Weight – 2.3 kg (6.6 lbs)
Instead of a wraparound handle, this model has the bale handle (Bosch calls this the 'soft D-shape) that's really comfortable to hold. The switch is set within this, and it's great for smaller hands while operating the machine.
However, it's the weight that appeals the most, making this a super little hedge trimmer to use. And at £70 without the battery and charger, it's pretty reasonable. A Bosch battery will set you back about £40 and the charger likewise.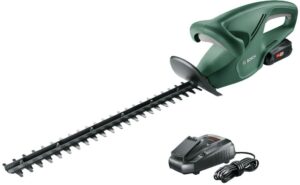 Most DIYers have used Worx tools at one time or another and found them to be robust and thoughtfully designed. This hedge trimmer mirrors that fact. Although it looks simple, the more you use it the more you realise the planning that went into its shape.
Let's take a look at those specs:
Blade length – 44 cm (17 ins)
Cutting width – 1.4 cm (0.55 ins)
Laser-cut blades
Blade tip protector
Run time – 20 minutes
Charging time – 230 minutes
20v motor
Weight – 2.4 kg (5.2 lbs)
This is a great lightweight hedge trimmer for keeping a small garden tidy. It can cope with smaller hedges and light garden work. The running time is, admittedly, pretty short and the charging time a little too long. As for the price, the bare unit costs around £85 and a battery will set you back around £45 and is compatible with all Worx Powershare™ tools.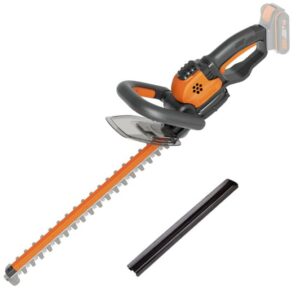 Extendable Hedge Trimmers
If you have tall hedges, you might want to consider buying an extendable hedge trimmer or pole hedge trimmer. These are handy for reaching the tops of very tall hedges without having to climb a ladder. You need both hands to operate most hedge trimmers, so it can feel a bit precarious when you're wobbling around on a ladder!
The trouble is, pole hedge trimmers generally weigh more than their shorter counterparts. But let's take a look anyway to see which ones are lighter.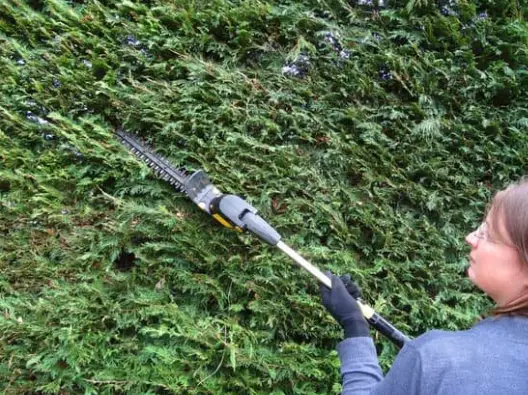 We met Einhell earlier, but we're returning to this brand because the GC-HH 9048 is an amazing piece of kit! Some of these machines can weigh between 7 and 9 kg (15 to 20 lbs), but this one is only 5 kg (11 lbs) making it not much heavier than some standard petrol models.
It's an electric hedge trimmer with a cable, but that's the only (in my book!) negative point.
The telescopic pole extends to 2.5 metres, allowing you to reach the top of high hedges. The cutting head is 41 cm (16 ins) long and can be angled to get a beautiful flat top, and the handle can be rotated for easier use. It also comes with a shoulder strap to make it more comfortable, and the powerful 900-watt motor is set within the handle to provide balance.
As for the price, this model goes for around £110, and there are no batteries or fuel to factor into that price.

Millions of us have trusted Flymo to make our lawns neat and tidy for decades, and this machine of their's will do the same for your hedges and shrubs.
Again, it's an electric hedge trimmer with a 4-metre cord, so you'll need an extension cable.
It has a 48 cm (19 ins) blade with a tooth gap of 2.5 cm (0.98 ins) and the shaft extends up to 3 metres (10ft) in length. The 500-watt motor is adequate for light hedge trimming and shaping.
Best of all, it only weighs 4 kg (9 lbs) which is amazing for a machine this size! And at around £120, it's not too expensive.

Ryobi RPT4545M
I'm coming back to Ryobi here as I had to include a cordless trimmer in this section, and this one is excellent.
First, it has a powerful 450-watt motor. Next, the 45 cm (18 ins) laser-cut blade is more than adequate for the task, and the 2 cm (0.78 ins) tooth gap is fine for most hedges.
The shaft extends to an impressive 4 metres (13 ft), allowing you to easily reach your tall hedges. Also, the cutting head rotates through 135º so you can shape your hedges as you wish.
The specs online give the weight as 4.1 kg (9 lbs) although none of the sources state whether this includes the battery. However, a 2 Ah battery weighs about 1 kg (2 lbs) so it won't be overly heavy anyway.
This machine will cost you between £90 and £125 without a battery and charger (you can get these for between £50 and £70).
Which Power Source Is Best?
As you know, there are three types for you to pick from: petrol, battery and electric trimmers. People often ask which is the best, but this is really for you to decide.
All I can do is present the facts, then it's up to you to figure out which is better suited to your personal preference and circumstances.
Pros & Cons
Let's look at the positives and negatives of the three different power sources as this will make things clearer.
Petrol Hedge Trimmers
The first thing to note, as I alluded to earlier, is that petrol hedge trimmers are generally heavier than other types. Manufacturers have worked hard to reduce the weight, but they are still pretty heavy due to the 2-stroke petrol engine. On average, they weigh between 4.3 kg and 7 kg (9.4 lbs to 15.4 lbs).
Also, you have the bother of mixing the fuel – you can't just stick petrol in and off you go (well, you can, but you won't get far!). Storing petrol can also be hazardous, increasing the risk of fire or explosion. Remember, empty fuel containers are more dangerous than full ones – it's the fumes that ignite rather than the actual liquid.
Petrol hedge trimmers are noisy, too. In fact, ear protection is recommended while using most models. Then there's the fumes to consider. Not only do they smell unpleasant (to most people!), but they also add to environmental pollution.
Finally, because they have more moving parts and components, they require a lot more maintenance than the other types.
So far, I've painted a pretty negative picture of the petrol hedge trimmer!
However, in their favour, they are very powerful and great for bigger spaces. They are excellent for dealing with thick branches and can be used for longer periods (unless your arms get tired!). These are a better choice for professional gardeners and landscapers.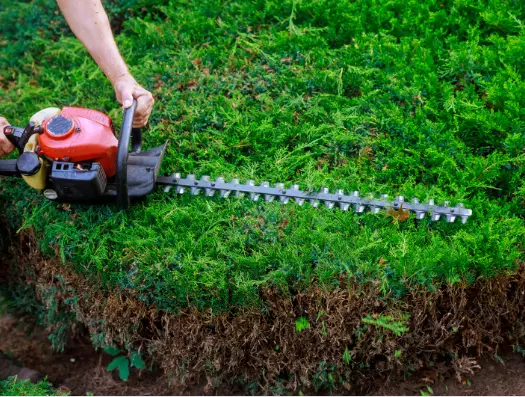 Corded hedge trimmers
The main benefit of an electric hedge trimmer is that you have an uninterrupted power supply. You plug it in and off you go!
Secondly, you won't have a heavy engine or battery to lug around, so they tend to be pretty lightweight, usually between 2 kg and 5 kg (4.4 lbs to 11 lbs).
When it comes to drawbacks, the main issue is the power cord. Some of the better models have a 10-metre cable fitted as standard, which is great for most small or medium-sized hedges and gardens. However, if you need to stretch further afield, you'll need an extension cord (or two!).
The trailing cables also present a hazard. Trips and falls are the most common accidents in the garden. And countless gardeners have managed to slice through the power cord at some time or another. While the chance of electrocution is minimal, it can't be ruled out.
Cordless Hedge Trimmers
For me personally, these models offer a perfect compromise; they are typically lightweight, there's no cable to worry about, and some models are as powerful as many petrol trimmers.
Some consumers complain about having to wait for batteries to charge, but modern lithium-ion batteries are built to last longer and charge quickly.
On average, a cordless hedge trimmer weighs between 2 kg and 4.5 kg (4.4 lbs and 9.9 lbs), although there are heavier models. It also depends on the battery power, but here's a tip – don't go for a super-powered battery that lasts for 2 hours. The more powerful the battery, the heavier the trimmer will be. But if you need to stop after 20 minutes for a long break anyway because the machine is too heavy, then what's the point?
Instead, choose a lower-power battery and a fast charger. In fact, investing in two batteries is a great idea, as you can use one and charge the other. You'll get a lightweight hedge trimmer that lasts for between twenty and forty minutes, then you can take a break or switch batteries and carry on.
What Features To Look For
While the main purpose of this article is to find the best lightweight hedge trimmer, weight shouldn't be the only factor to focus on. After all, there's no point in choosing a model that's light as a feather but is useless in every other sense.
It's all about getting the best value for money and making sensible compromises when necessary.
Here are some features to watch for when selecting your ideal hedge trimmer:
Safety Features
All power tools carry a certain amount of risk. Most manufacturers these days include built-in features to keep you safe, and it's worth checking for these when buying:
Automatic cut-off switch
Sometimes (disturbingly!) called a dead man's switch, these cause the engine or motor to stop the very instant you release either of the handles. This is in case you slip, trip or for any reason let go of the tool whilst trimming your hedges.
These switches are astonishingly quick to act, stopping the blades in less than half a second!
Also, most machines won't switch on unless both handles are being squeezed, as this stops the trimmer from being started accidentally.
Users frequently complain that this device stops them from using the machine with one hand. However, this is never a good idea as you may be tempted to put your free hand in front of the blades, maybe to move a branch out of the way or something.
Blade Cover
Those blades are exceptionally sharp, especially when new and even when they're not moving. Most leading brands provide a sturdy cover to stop the blades from getting damaged and to protect you from injury. Always use the protective cover when storing the trimmer to avoid accidents.
Hand Guard
The hand guard actually provides double protection as it prevents your hand from slipping forwards into the moving blades, as well as guarding you against twigs and stems that are hurled backwards.
Some hand guards are transparent to allow you a better view of where you are cutting.
Easy Start
This one relates to petrol hedge trimmer models, as they have a pull-start engine. In the past, these were fiddly and temperamental. A lot of hedge trimmer makers now fit their machines with easy start mechanisms that reduce resistance by up to 40%, making it much easier to fire up the engine.
Cutting Capacity
The gap between the teeth determines the size of the branches that the hedge trimmer can comfortably handle. The average hedge trimmer can cope with branches of up to 1.9 cm (0.74 ins) thick.
Blade Tip Protector
This is a handy feature if your hedges are close to walls. Without it, the tip can easily become damaged by contact with stone or brick. Old concrete fence posts sometimes lurk within hedges, waiting to bend or break the metal teeth. A tip protector is a great way to extend the life of your hedge trimmer. Some also incorporate a hanging eye for easy storage.
Blade Length
Ideally, you need a blade that's adequate for the width of your hedges. The trouble is that a longer blade adds weight to the trimmer. So, try to pick one with a blade that's around 30 to 40 cm (11 to 16 inches).
Conclusion: Best Hedge Trimmer For Ladies
So, what do you think? I've showcased a few of the best hedge trimmers for ladies (and anyone else!) who prefer a lightweight machine, but now it's up to you.
Hopefully, I've given you everything you need to make a decision, but at the very least, you'll be able to use the advice to find the best hedge trimmer to suit your needs, even if you don't buy one of those listed here.
I believe that hedge trimming shouldn't be a chore – the machine should do the work! Thankfully, there's a wide range of excellent lightweight hedge trimmers out there. So, choose yours and get those hedges cut!