Whether you have finished using your hedge trimmer for the day or for a few months, you must store it properly. Given how dangerous a trimmer can be in the wrong hands, you must keep it safe. However, you also want to keep the device in a way that maintains its conditions, ensuring it remains in good condition for many years.
There are different tips for different types of trimmers, and each manufacturer offers their advice on how to wash and stand your device.
No matter what type of trimmer you have, be it petrol, electric or battery, you'll find the best tips to secure your hedge trimmer, giving you one less thing to worry about.
This allows you to focus on trimming your hedges, trees, shrubs, bushes and even grass with confidence when the time comes around again.
Always cover the blades with a protective sheath
You know the cutting power of your blades as you've seen their impact on your bushes and hedges. So, you don't want these blades to come into contact with anyone or anything. You can protect yourself, other equipment and each and every blade by covering and storing your tool safely.
Clean the blade section before storing your device away
No matter the trimmer's style, cleaning the blades, removing dust, dirt and debris is sound advice. Failing in maintaining the cleanliness of your tool is a sure fire way of creating problems later on. You should also oil and seal the blades after use, lubricating them to ensure they remain in great condition. Some users take the opportunity to sharpen their blades before a hibernation period, but this isn't essential.
Once you have carried out basic cleaning and maintenance of the blades, place them in a protective sheath. You might have received a cover when you bought the trimmer. If so, and it is in good condition, use this. However, you might have purchased a more robust and dependable sheath for your trimmer for added safety and security. If you did, you should place this on your blades.
Do you have a safe place to store your garden tools?
While safety is essential in finding suitable storage space, you must also consider security. Given the cost and importance of garden tools like trimmers, it is easy to see why opportunist thieves are happy to steal them.
Avoid a damp storage location
In addition to placing your tools in a dry and well-maintained area, you should ensure they are locked away, where only you can access them. A garden hut or shed is a suitable location to place your trimmer, but only if it is a robust location. If people can easily access your garden and shed without much effort, you might want to reconsider your storage options. 
Adding a safe box to place these items in might be a worthwhile investment, saving you time, money and long-term hardship.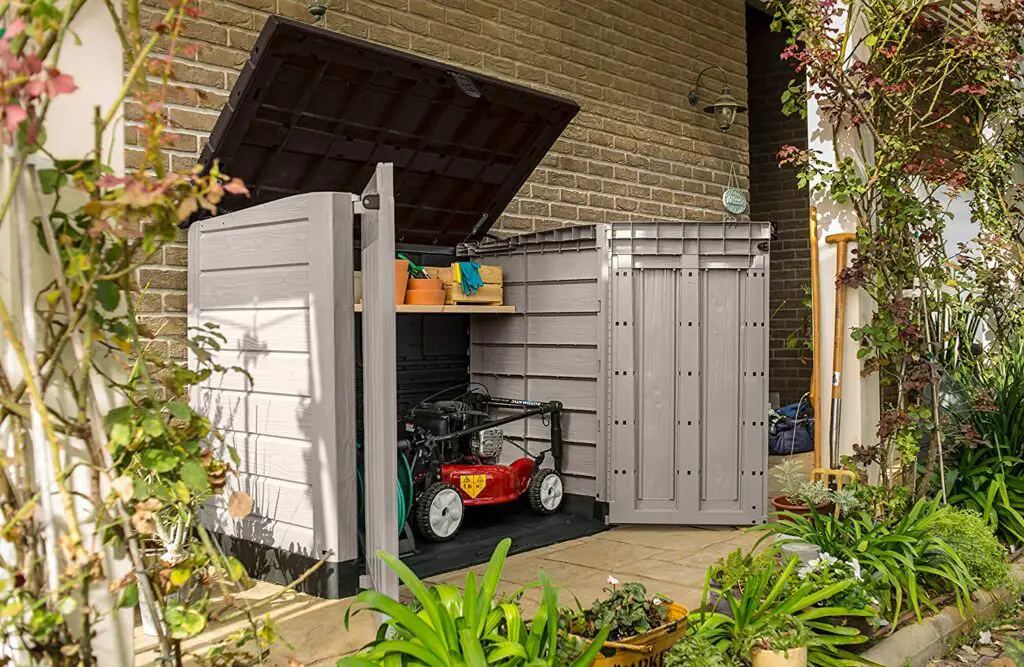 Do you have a battery hedge trimmer?
If you have a battery hedge trimmer, you should remove the battery before you place it away for winter storage. Be sure to wipe the trimmer with a cloth, doused in running water, and then dry the machine carefully. You want to avoid corrosion over the winter months.
Do you have a petrol hedge trimmer?
If you have a petrol hedge trimmer and don't intend to use the machine for some time, it is best to remove the fuel. While there is a wide range of opinions from experts in this field, if you don't expect to use your fuel trimmer for at least a month, empty the oil reservoir and clean the inside of the machine.
It is also advisable to keep your hedge trimmer on a flat area or surface. Given the length and size of some trimmers, this can be challenging, but it is imperative to maintain the device carefully. Make sure the space is large enough, and ensure there is no chance of the tool falling. Try to place trimming machinery in the middle of a large space with secure features.
Can I hang a trimmer vertically?
Depending on the type of device, you can consider hanging it from a wall, or on a storage shelf from the ground up. If you have a storing solution for a chainsaw, it is likely to suit many trimmers too. These high powered garden cutting devices need careful attention, and its worth the effort finding a safe spot.
Remove petrol when storing hedge trimmers for some time
Specific issues are likely to arise if you don't remove fuel from your machine and engine when it is not used for a prolonged period. Additives in the petrol evaporate and react over time, and they can attract water. You want to avoid moisture, which causes metal to rust and can cause untold damage to your device.
You will also find that retaining petrol inside the tank can lead to blockages or cause sticking in and around vital components of the fuel delivery system.
Devices with strong cutting power need well looked after
The same is true for a chainsaw and lawn mowers. If you have gardening tools that run on petrol or fuel, remove this fuel when you place it away for a prolonged period. If there is a pull mechanism to start the engine, ensure this is in good working order before you place the device away.
 If you have excess fuel left over and wish to store it in a container until you use your trimmer again, please choose a suitable fuel storing solution. It is best to purchase commercial fuel containers instead of old bottles, drums or containers you had around the home or workspace. The highly volatile nature of the fuel, and the smells, mean you must keep them safely and securely.
Clean your spark plug
Make sure you check and clean elements like the spark plug and air filter before placing your machinery away for a few months.
 Proper maintenance extends the life of hedge trimmers 
By carefully storing your hedge trimmers, you ensure they will be in excellent condition when you next use them. Knowing you don't have to replace an expensive device is a great comfort, allowing you to look forward to spring with hope and expectation.